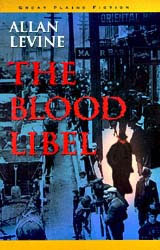 The Sam Klein Mysteries
When Sam Klein investigates the murder of Emily Munro, a suffragette with many sordid secrets,
he enters a world of women's rights in 1914 Winnipeg.
Here he encounters famous activist Nellie McClung as well as the uneasy tension between
Victorian morality and real life. Like its predecessor, The Blood Libel, Sins of the
Suffragette transports readers back in time to experience the streets, sounds,
and smells of "the wickedest city in the Dominion" where immigrants from the city's
tough North End struggle to find an identity in a world dominated by white middle-class WASPs.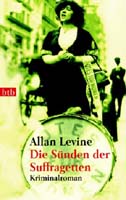 Short-listed for the Carol Shields City of Winnipeg Book of the Year
Short-listed for the Margaret McWilliams Medal for Best Historical Fiction
Published in Germany as Die Sünden der Suffragetten by
BTB-Random House Germany

Featured at the Berlin International Literature Festival
Praise for Sins of the Suffragette

"Allan Levine's Winnipeg bursts with civic pride, simmers with political and police corruption

and seethes with racial tension. It smells of chicken soup, cigars and opium. Its residents live out their lusty lives on the snow clogged streets…History, told through lively characters and washed down with side dishes of seances, suffragists and sex, and the suspense of a good whodunnit."

—Winnipeg Free Press
"When we first met Winnipeg investigator Sam Klein, it was 1911 and he had just ferreted out the truth
behind the "Blood Libel"…Now Klein is back in a better book with a tighter plot…"
—Margaret Cannon, The Globe and Mail

"By the first page and half I was hooked!"
—Lethbridge Herald
"(Levine's) account of Winnipeg's early settlement is brilliantly woven into a tale of nail-biting suspense."

—Canadian Book Review Annual
"This is one of those rare novels that manages to both entertain and instruct. There are several
credible and complex mysteries embedded in the story and their solutions are embellished and

augmented by a wealth of historical, social, and local detail."

—Quill & Quire
From Germany: "Fortunately, Allan Levine does not write dry historical novels…but exciting historically

rich and detailed crime stories…The plot is so winding and the characters intriguing.

That makes Levine absolutely worth reading."

—Abendzeitung (Nuremberg and Munich)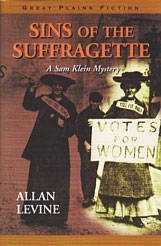 Sins of the Suffragette
Published by Great Plains Fiction, 2002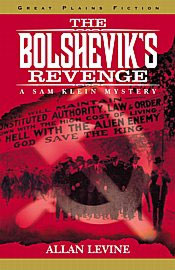 The Bolshevik's Revenge
Published by Great Plains Fiction, 2002

The 1919 Winnipeg General Strike is the dramatic backdrop for the third installment of the Sam Klein Mystery Series. The "war to end all wars" has just ended, the Bolsheviks have seized power in Russia and most of the Western world is convinced that a widespread workers' revolt is imminent.
Winnipeg is no exception as sector after sector of the city is shut down by a massive General Strike, and when one of the city's most prominent capitalists is murdered, detective Sam Klein is called in to solve the case before the city erupts in chaos.

Short-listed for the Margaret McWilliams Medal for Best Historical Fiction
Praise for The Bolshevik's Revenge

"Who needs James Bond? Sam Klein is back to save the world, or at least Winnipeg."
—
Winnipeg Free Press


"This is great fun, and fans of Faye Kellerman will love the family and religious threads woven into the plot."
—
Globe and Mail
"The yarn Levine spins for Klein to tie the homicides together skillfully blends elements of mystery, romance, history and politics with lots of conflicts and plenty of action and intriguing suspense."
—
Mystery Review
"History needs to be kept alive, not just in Canada, but around the world. And judged on that level, Levine's book is a triumph, fascinating and arguably timely. No sooner had I finished it, than I headed to my local library to learn more about the 1919 strike. I also dusted off my mental to-be-read pile, where I moved Sam Klein's two previous adventures closer to the top."
—januarymagazine.com
To Buy

Sins of the Suffragette
To Buy

The Bolsheviks's Revenge

To Buy Evil of the Age,

in audio
To Buy Evil of the Age,

in print
Further reading on

Evil of the Age
Mysterious Reviews on Evil of the Age

In the sizzling summer of 1871, New Yorkers talk about only two things: a murdered woman cruelly stuffed into a trunk and Tammany Hall's insidious corruption.
Journalist Charles St. Clair travels from the mansions of Fifth Avenue to the brothels of SoHo on the trail of both stories. But what he uncovers proves to be more shocking than even he ever imagined.

Praise for Evil of the Age

"Winnipeg's own Allan Levine takes his talents for historical mystery to 19th-century New York for this novel...Great research and great fun make this a winner."
—Margaret Cannon, The Globe and Mail.
"Based on real people and events, the mystery is satisfying and the historical detail fascinating and topical."
—Kirkus

"One of the finest 'history mysteries' available today. Evil of the Age is an award-winning novel in waiting...Evil of the Age is history revealed in sordid and fascinating detail. It's also a mystery--a chilling and believable tale. It simply doesn't get any better than this."
—Don Graves, The Hamilton Spectator. To read the entire review, click HERE.

The review is about three quarters of the way down the page.
"Levine has done it again. He has seamlessly crafted an amazing mix of historical lore, credible views of the seamiest settings of old New York, an intertwined plot of murderous suspense and political corruption, and with a population of unique characters, good, bad, ugly and everything in between. For history/mystery fans it's a book that leaves its readers begging for the next of the St. Clair chronicles."

—M. Wayne Cunnigham, Mysterious Reviews. To read the entire review, click HERE.
Evil of the Age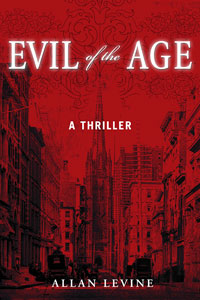 The Blood Libel Published by Great Plains Fiction, 1997 Sam Klein is a streetwise minder at a local brothel who investigates the murder of a Polish girl — a murder blamed on a North End rabbi. His search for the real killer is frustrated by battles with ethnic intolerance and with authorities who insist they've found their man.

The Blood Libel brings the vivid, turbulent times of turn-of-the-century Winnipeg to life, using the "wickedest city in the dominion" as a setting for this complex and chilling mystery thriller. The novel captures the indomitable spirit of immigrant life in Winnipeg's fabled North End, and creates a detective hero for the ages in Sam Klein, whose pursuit of justice goes to the heart of the immigrant experience as "foreigners" in a strange, new land.

Winner of the Margaret McWilliams Medal for Best Historical Fiction
Short-listed for the Chapters/Books in Canada First Novel Award and the Arthur Ellis First Mystery Novel Award
Published in Germany as Mit falscher Zunge by BTB-Random House Germany
Praise For The Blood Libel

"Allan Levine delivers something far more substantial than a murder mystery…in this story of politics and prejudice…The fair, balanced perspective distinguishes The Blood Libel and makes it an intelligent book that is —without for a moment detracting from its intensity."
—Books in Canada
"Historians seldom extend their talents to murder mysteries, but Allan Levine has done just that, and The Blood Libel turns out be chilling and believable…"
—Peter C. Newman

"This novel, set in Winnipeg in 1911, has a lot going for it. First, there's the setting, lovingly evoked by Levine, a historian. Then there's the premise, the dreadful blood libel accusation against the Jews, used by successive regimes as an excuse for murder, massacre and violence. Finally, there's a clever character named Sam Klein, who makes his living guarding a whorehouse and who makes a fine amateur detective… much to enjoy and fans of Winnipeg local history will love this book ."

—The Globe and Mail

"An excellent book, both a stimulating history lesson and an absorbing adventure tale ."

—Winnipeg Free Press
The Blood Libel